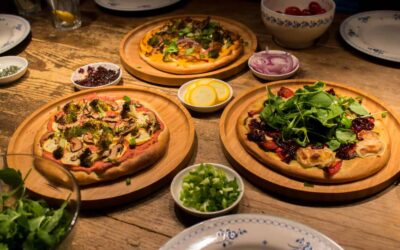 Hungry? Join our three-way vegan pizza party. Vegan pizza bases are available at most supermarkets. We chose to use the Magioni bases for our pizza's since they are made with part vegetables and therefore a bit healthier. These bases don't have any tomato...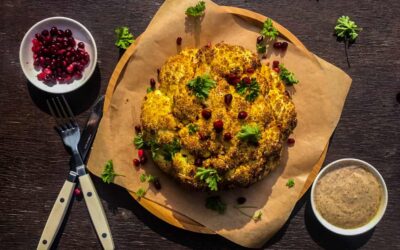 Whole Roasted Cauliflower For this week's recipe, we take a hit at a whole cauliflower head. We will marinate it, roast it and finish it up with some fresh pomegranate seeds for a fresh touch. This recipe is perfect to be part of a meal sharing event or to...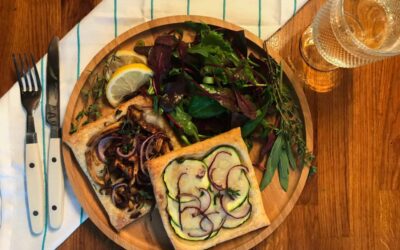 Puff-Pastry Squares With Vegan 'Gorgonzola'-Style Cheese and a Simple Salad In this weeks recipe, we take a shot at nothing else than delicious Gorgonzola-style cheese puff pastries. Fully flavoured and strong in taste, they truly shine when combined with...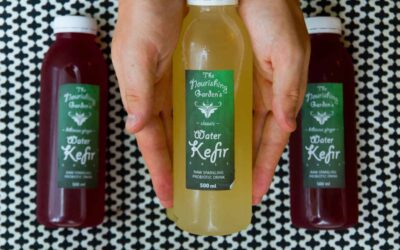 Water Kefir Water Kefir is not only delicious, it also provides some health benefits and is a great way to add some flavour to your day. At Vegabond, you can treat yourself to a tasty drink or you get yourself the necessary water kefir grains to make your...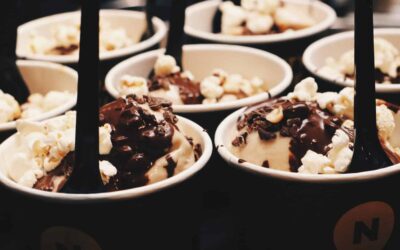 Peanut Butter Cup Nice Cream by NANABAR Peanut Butter Nice Cream topped with Raw Cacao Nibs, Popcorn & Salted Peanuts. Served with Cacao Fudge   This is hands down the most popular flavour at NANABAR. The salted peanuts combined with their rich cacao fudge...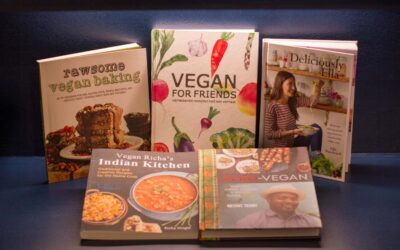 5 Vegan Cooking Books We Totally Recommend Especially for new vegans, cooking fresh, exciting and diverse recipes is often a challenge and makes the transformation harder than necessary because there are plenty of absolutely delicious dishes out there to...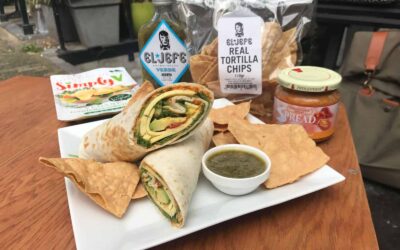 Easy Lunch Or Party Wraps When people go vegan, they sometimes struggle with creating interesting lunch dishes. To make sure you don't get tired of eating plain hummus sandwiches, we've created this simple wrap with ingredients from our store, so you have...
OPENING HOURS
Monday: 9 am - 7 pm
Tuesday: 9 am - 7 pm
Wednesday: 9 am - 7 pm
Thursday: 9 am - 7 pm
Friday: 9 am - 7 pm
Saturday: 10 am - 7 pm
Sunday: 11 am - 6 pm
Visit us
STORE / LUNCHROOM
LELIEGRACHT 16
1015 DE AMSTERDAM
Visit us
STORE / LUNCHROOM
LELIEGRACHT 16
1015 DE AMSTERDAM
OPENING HOURS
Monday: 9 am - 7 pm
Tuesday: 9 am - 7 pm
Wednesday: 9 am - 7 pm
Thursday: 9 am - 7 pm
Friday: 9 am - 7 pm
Saturday: 10 am - 7 pm
Sunday: 11 am - 6 pm
OPENING HOURS
Monday: 9 am - 7 pm
Tuesday: 9 am - 7 pm
Wednesday: 9 am - 7 pm
Thursday: 9 am - 7 pm
Friday: 9 am - 7 pm
Saturday: 10 am - 7 pm
Sunday: 11 am - 6 pm