Whole Roasted Cauliflower
For this week's recipe, we take a hit at a whole cauliflower head. We will marinate it, roast it and finish it up with some fresh pomegranate seeds for a fresh touch. This recipe is perfect to be part of a meal sharing event or to accomplish other dishes as a side dish. It is easy to prepare yet absolutely delicious and looks great. The pomegranate seeds give the cauliflower head a fresh touch and combined with the aroma of the roasted spices. 
You can change the spices used to marinate the cauliflower after your liking, especially some chilli flakes can add a nice punch to the dish and makes for a nice spin of a Mexican inspired dish if you top the cauliflower with jalapenos and chipotles!
Ingredients (For a 4-people-lunch):
1)  1 Cauliflower Head
For the marinade:
2)  1/4 cup of olive oil
3)  1 clove of garlic, finely chopped
4)  1 tablespoon of curry spices
5)  1 tablespoon of chilli flakes
6)  1 tablespoon of salt flakes
For the sauce:
7)  1 lemon, juiced
8)  4 tablespoons of almond butter
9)  4 tablespoons of water
10)  Pinch of salt and pepper
Finish off with:
11)  1/2 cup of pomegranate seeds
12)  1/2 cup of fresh parsley leaves
Instructions:
1)  Pre-heat your oven to 250 degrees Celsius
2)  Cut the green leaves off the cauliflower, leaving the head of the cauliflower intact
3) Place the cauliflower in a greased baking dish

4) Mix all the marinade ingredients together and pour the mixture over the cauliflower

5) Rub the marinade over all sides of the cauliflower, massaging it in

6) Bake the cauliflower for about 40 minutes in the middle of the oven, drizzle some more olive oil over it, halfway through

7) Bake the cauliflower out when it has turned golden brown and let it sit for ten minutes before moving it onto a serving plate
8) In the meanwhile, mix up the sauce ingredients with a fork and season to taste.
9) Decorate the cauliflower with the parsley and pomegranate seeds, serve with some sauce and a bit of green lettuce on the side
Enjoy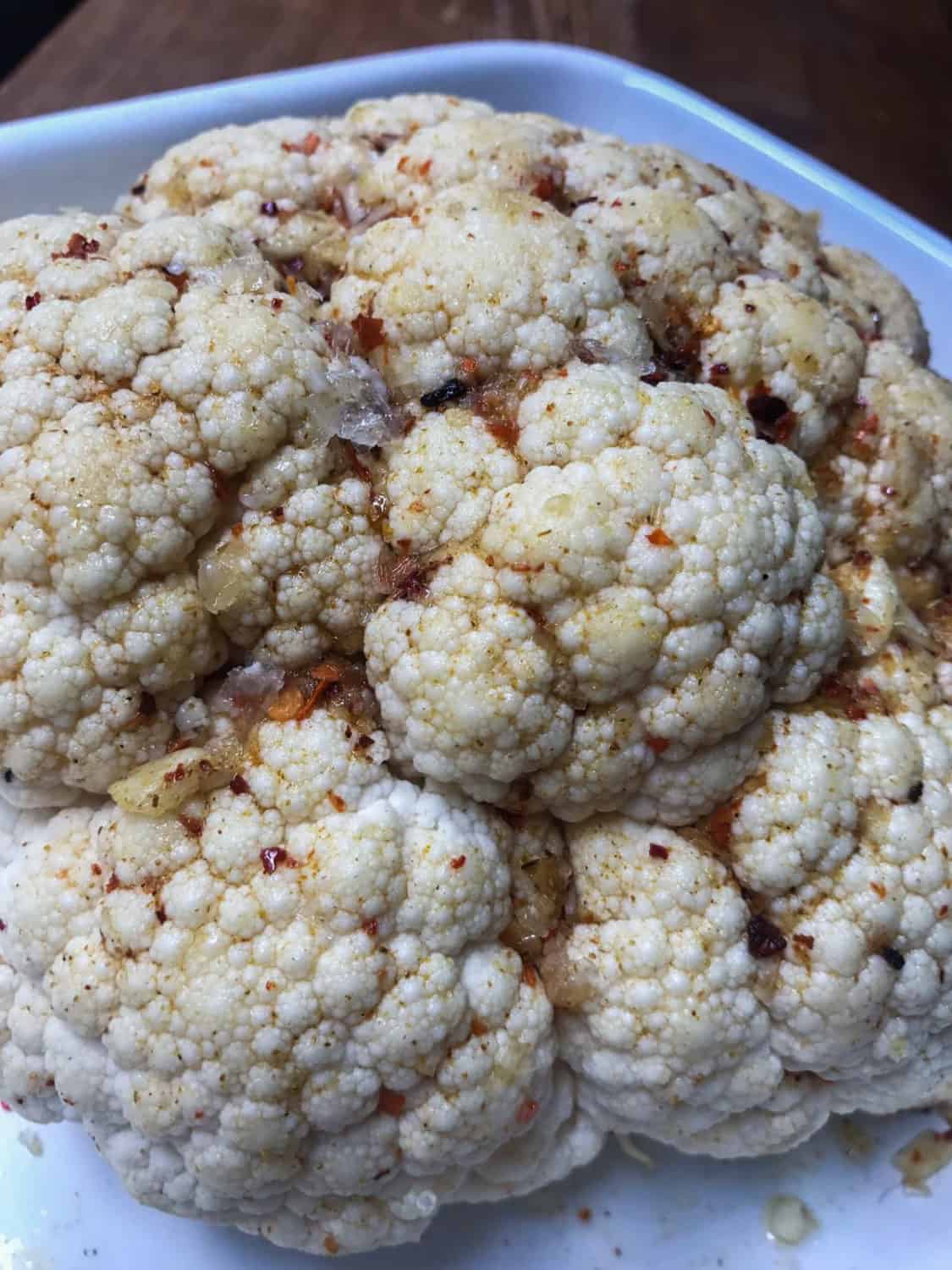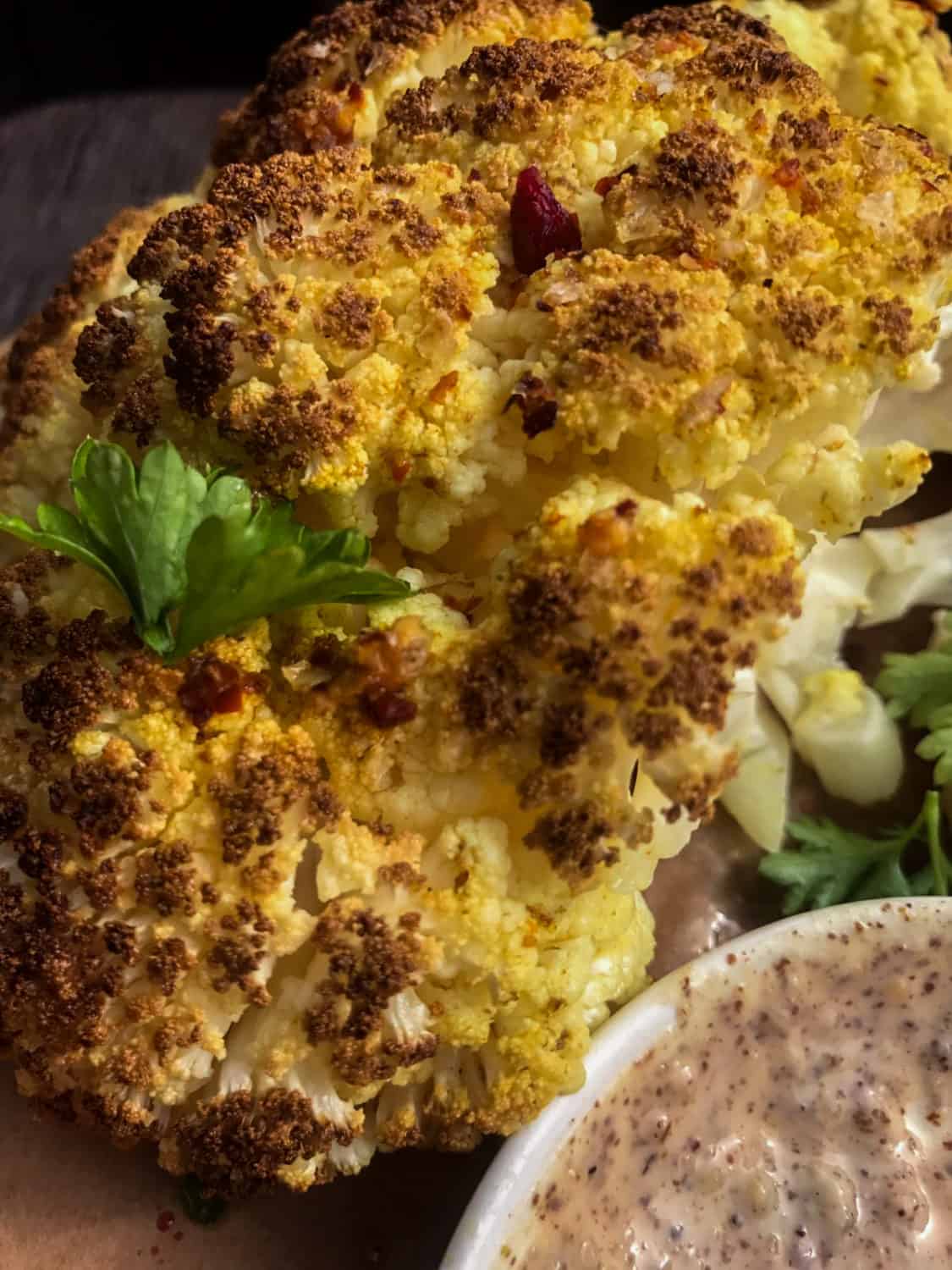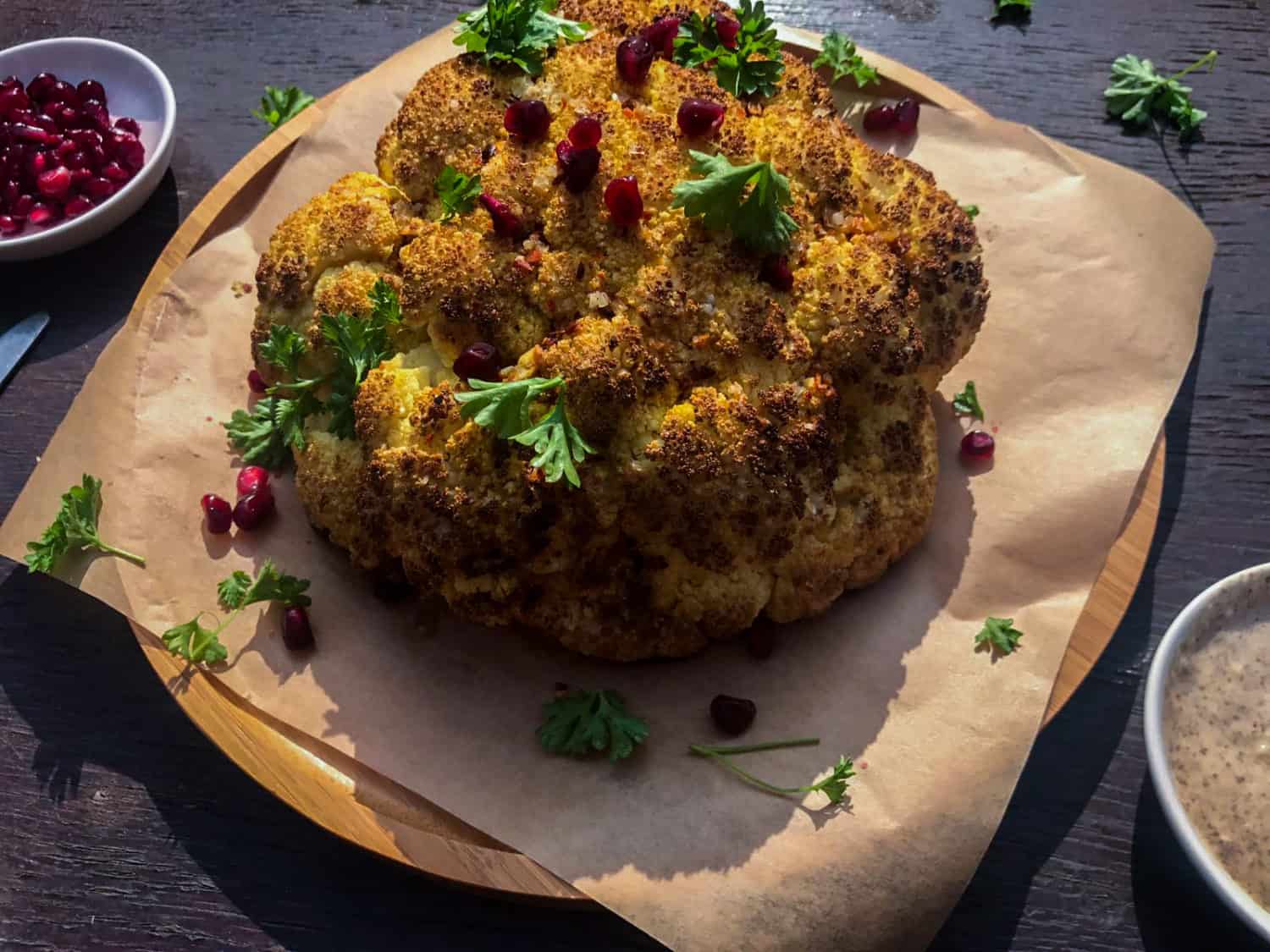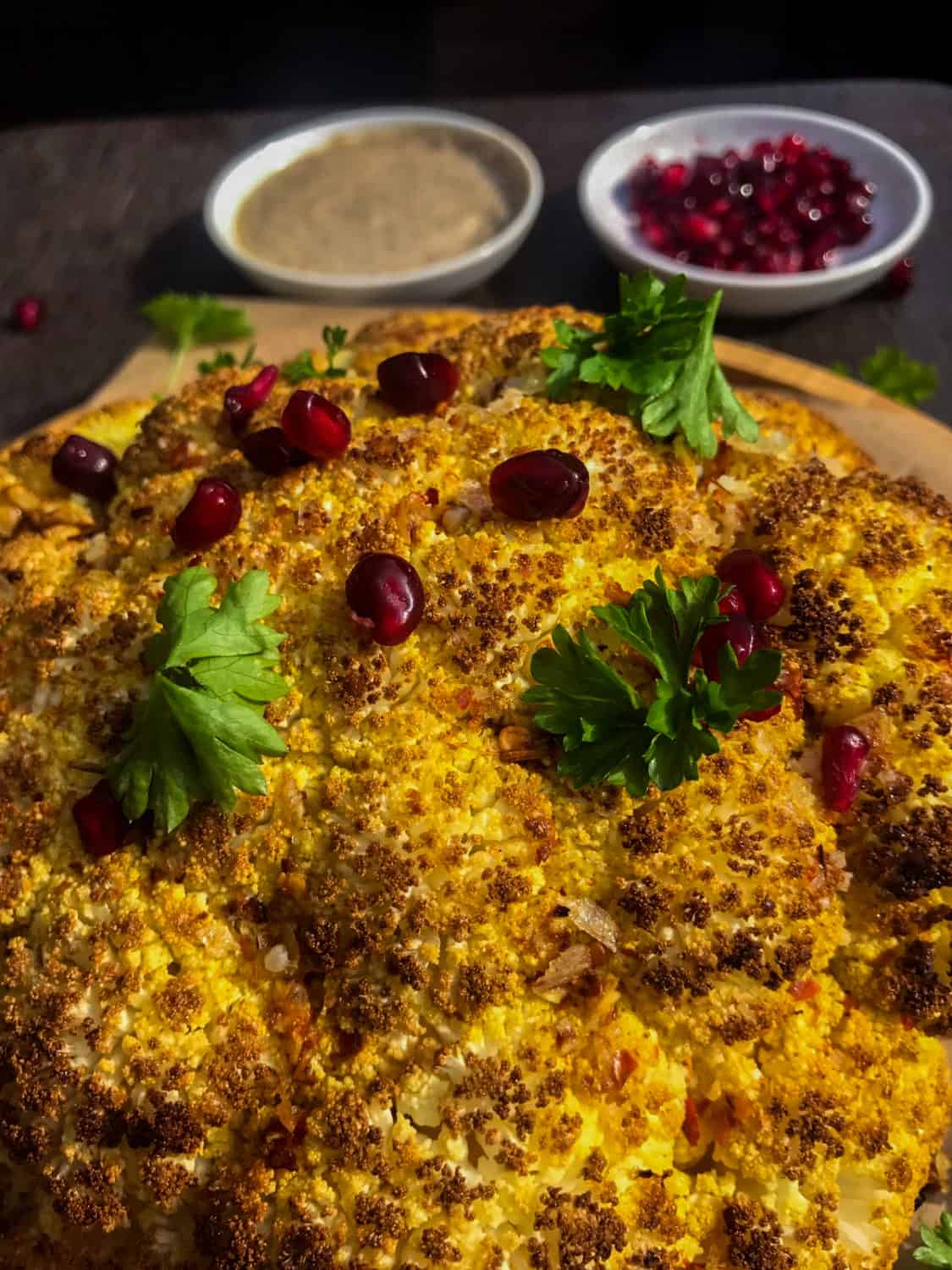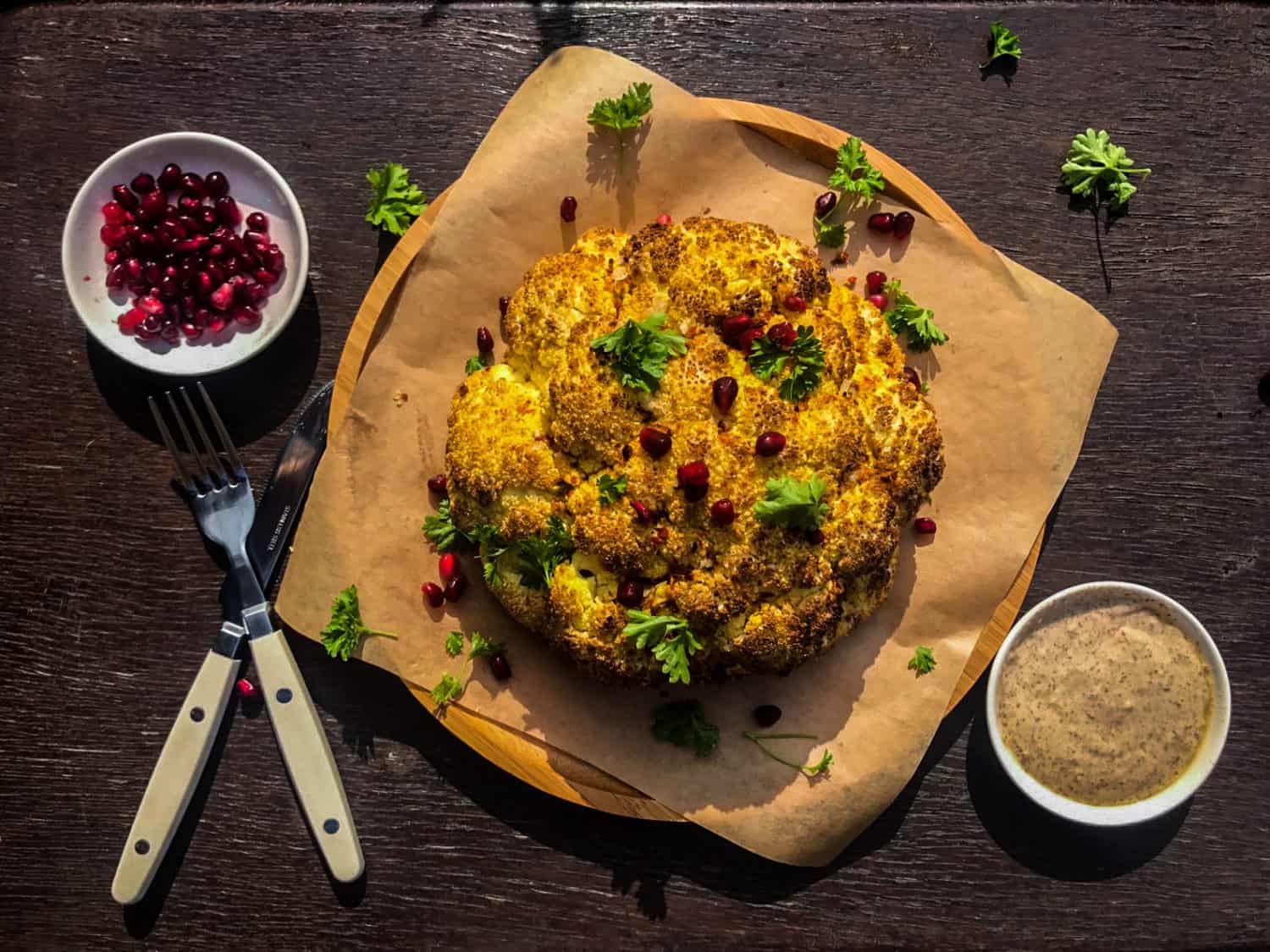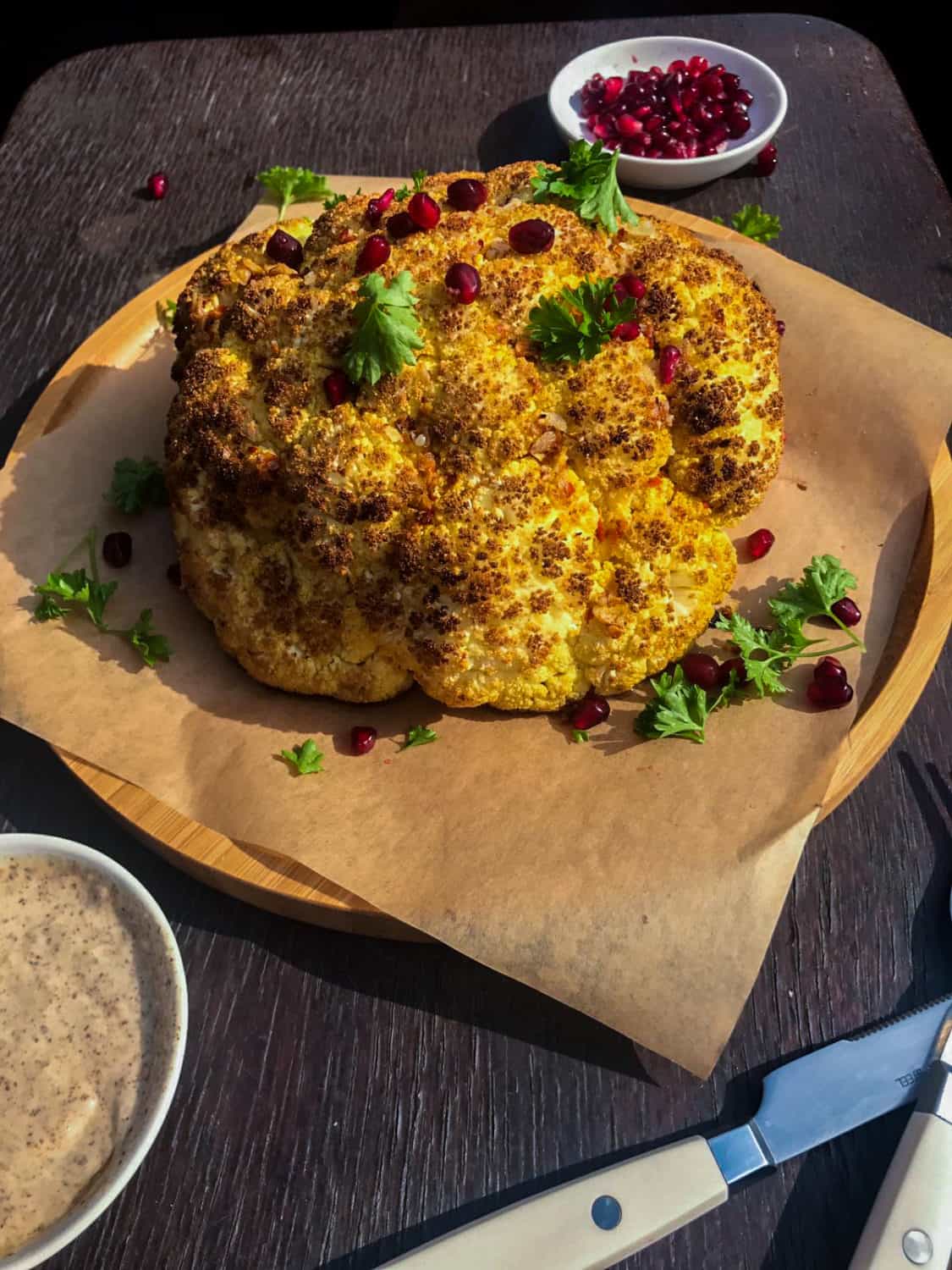 More Inspiration
For more easy, yet delicious, recipe ideas head over to the Vegabond recipe blog and find a few of our new favorites there. We update the blog every week with one new recipe and you can expect to see guest posts by bloggers, influencers, Vegabond-Community members and our staff there. If you are missing anything or got a question, let us know!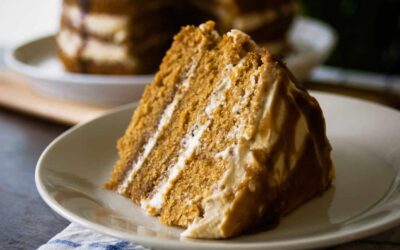 Seductive Salted Caramel Layer Cake Let's face it, this cake is loaded with calories but totally irresistible. Deep, buttery, brown sugar based cake has layers of salted caramel oozing between each bite and a rich caramel buttercream. This gorgeous cake is an...