Puff-Pastry Squares With Vegan 'Gorgonzola'-Style Cheese and a Simple Salad
In this weeks recipe, we take a shot at nothing else than delicious Gorgonzola-style cheese puff pastries. Fully flavoured and strong in taste, they truly shine when combined with a light and fresh salad for a delicious and healthy vegan lunch.  This dish combines the crunch of the pastry, the juiciness of the "cheese" with the deliciousness of sautéed mushrooms, onions and courgette. This recipe is a great to make if you expect more than 2 lunch guests as you can simply stack the backing trays in the oven and prepare salad for days. If you prefer to prepare your lunch for the week, you can also make several servings on Sunday and just pre-heat the pastries in the microwave at work. Make sure to prepare the salad the morning before eating and carry the dressing separately from the lettuce to make sure that it doesn't get soggy!
You can find all the ingredients needed in your local supermarket or farmers market and we always stock Violife Blu here at Vegabond!
Ingredients (For a 4-people-lunch):
For the squares:
1)  Eight small squares of frozen vegan puff-pastry
2)  2/3-pack of Violife Blu
3)  Half a courgette, sliced into thin round slices
4)  Three hundred grams of mixed mushrooms, cut into medium size pieces
5)  Fresh thyme and/or other fresh Italian herbs

6)  Salt & pepper
7)  One small red onion, cut into thin, half rings

8) Olive oil

For the salad:
9)  Two hundred gram of mixed leaf lettuce
10)  Two spring onions, cut into thin rings
11)  Extra virgin olive oil
12)  Juice of half a lemon
13)  Some sweet syrup, like maple syrup
14)  Salt & pepper
Instructions:
1)  Pre-heat your oven to 200 degrees Celsius
2)  Put a sheet of baking paper onto two flat baking trays and lay down the frozen pastry squares, leaving some space between them. Puncture small holes into the middle of the pastry squares with a fork. This prevents them from rising up when they bake.
3) While the puff pastry defrosts on the baking tray, sauté the mushrooms in a tablespoon of olive oil for about 5 to 10 minutes until they are soft and slightly brown. Add some fresh thyme leaves, salt and pepper at the end.
4) Crumble some Violife Blu on half of the pastry squares, leaving about a centimetre of space around the edges. You only need about a tablespoon of the crumbled Blu per square. Ensemble the courgette slices on the other half of the pastries. Now divide the sautéed mushrooms over the cheese filled squares and crumble the rest of the Violife Blu onto the courgette filled squares. Add some onion rings on all of them and finish it off with a drizzle of olive oil. No salt needed, the Violife Blu is salty enough on its own.
5) Place the baking trays in the middle of the preheated oven and bake for about 15 minutes, until the Violife Blu starts to change colour and the edges of the squares are golden brown. Sprinkle some more fresh herbs over them after baking.
6) While the squares are baking, you make a quick dressing by mixing 2 parts of olive oil with 1 part of fresh lemon juice, a drizzle of syrup and some salt and pepper. Mix the dressing with some lettuce and put it on a plate. Sprinkle some spring onions over the salad. Serve with the warm squares.
If you like, you can cut them in half to make them look extra pretty on your plate.
Enjoy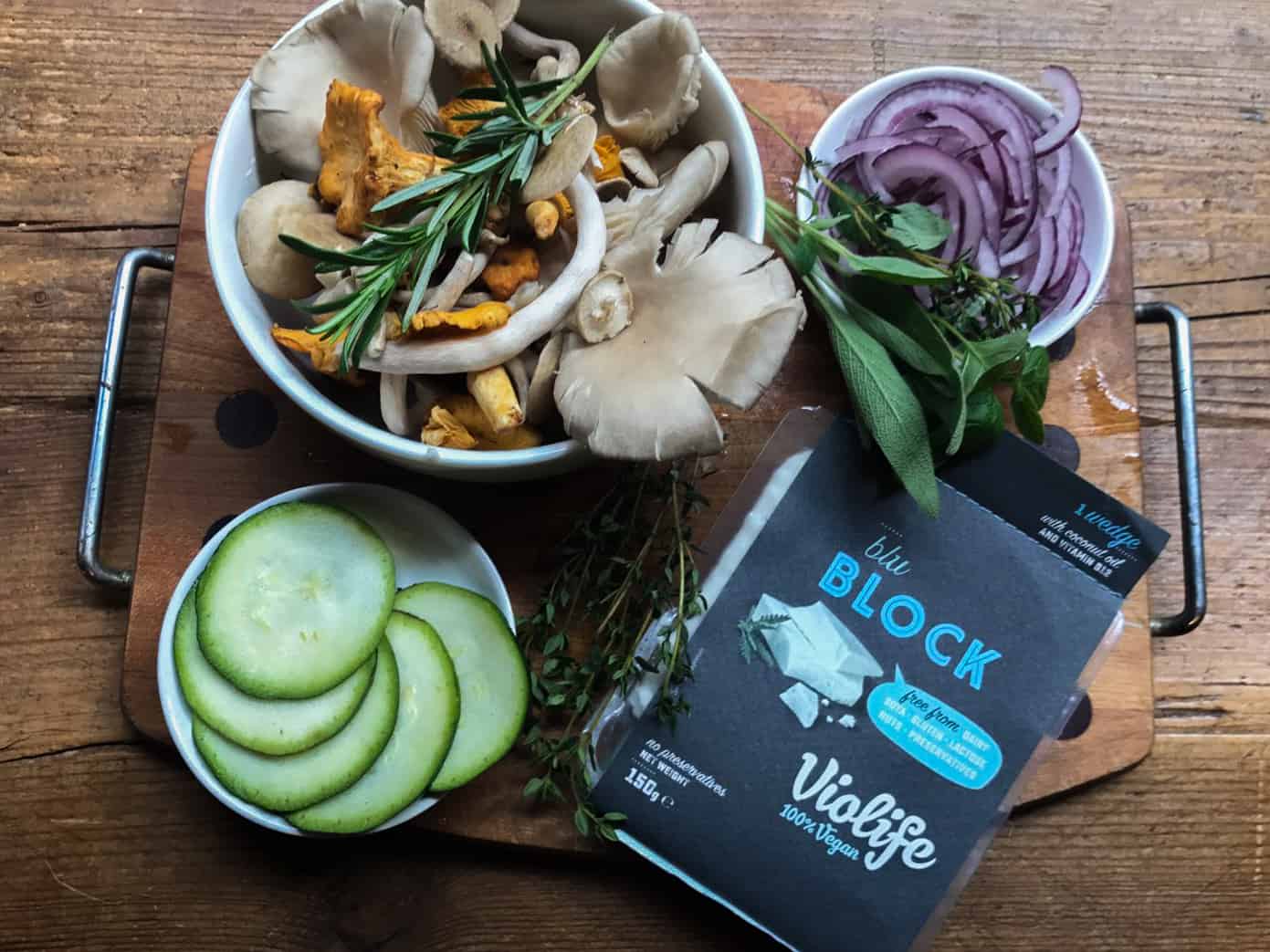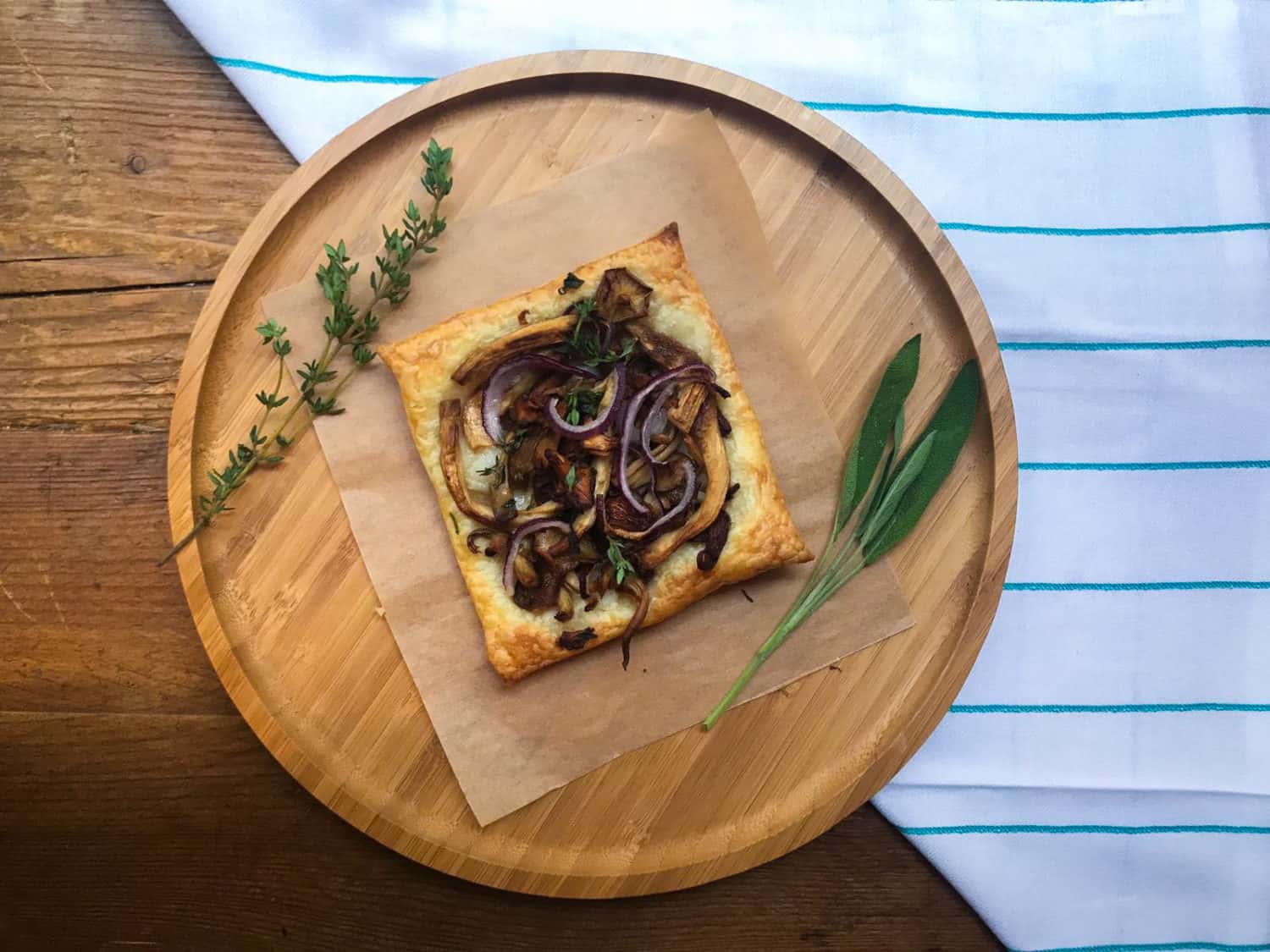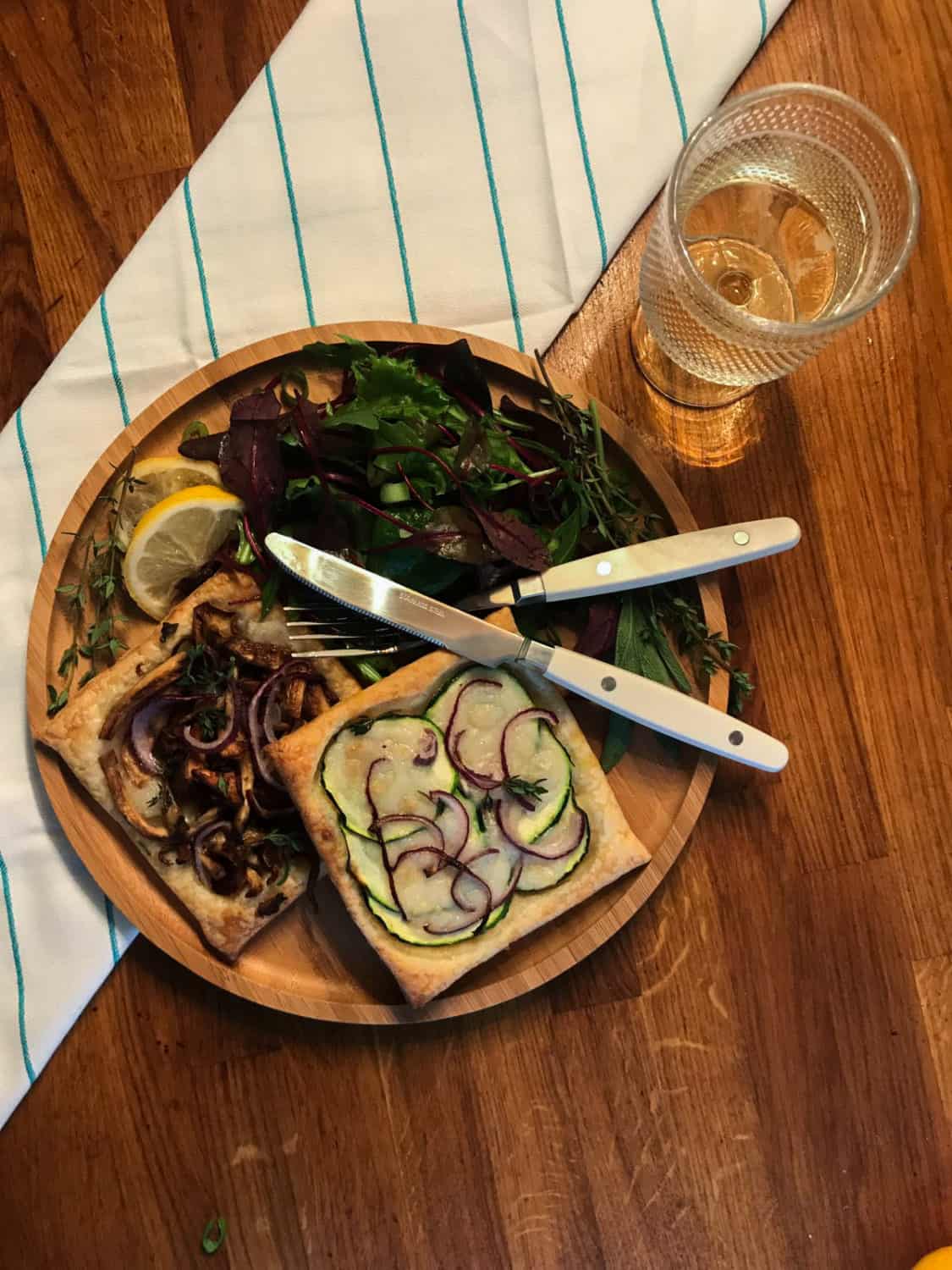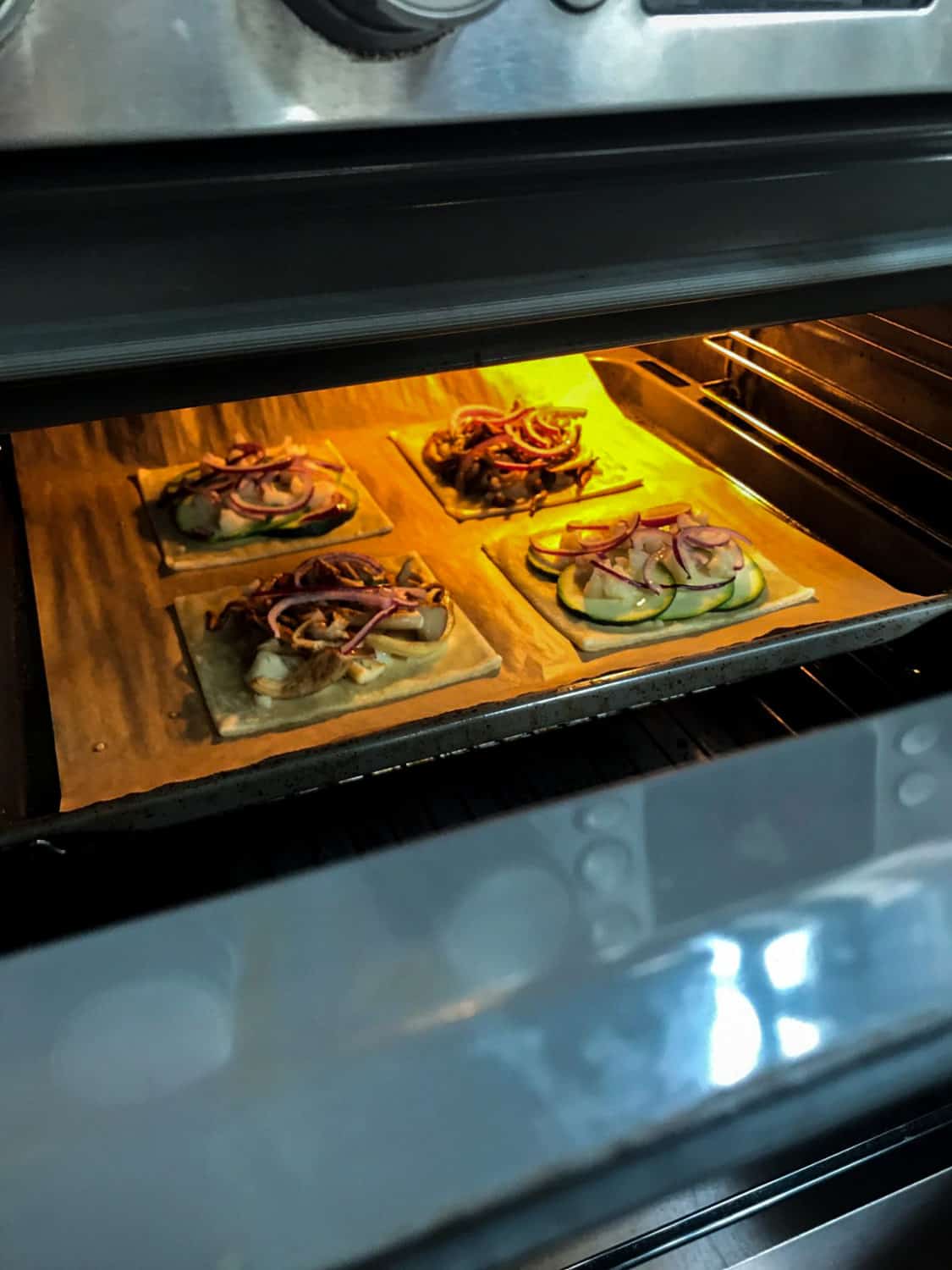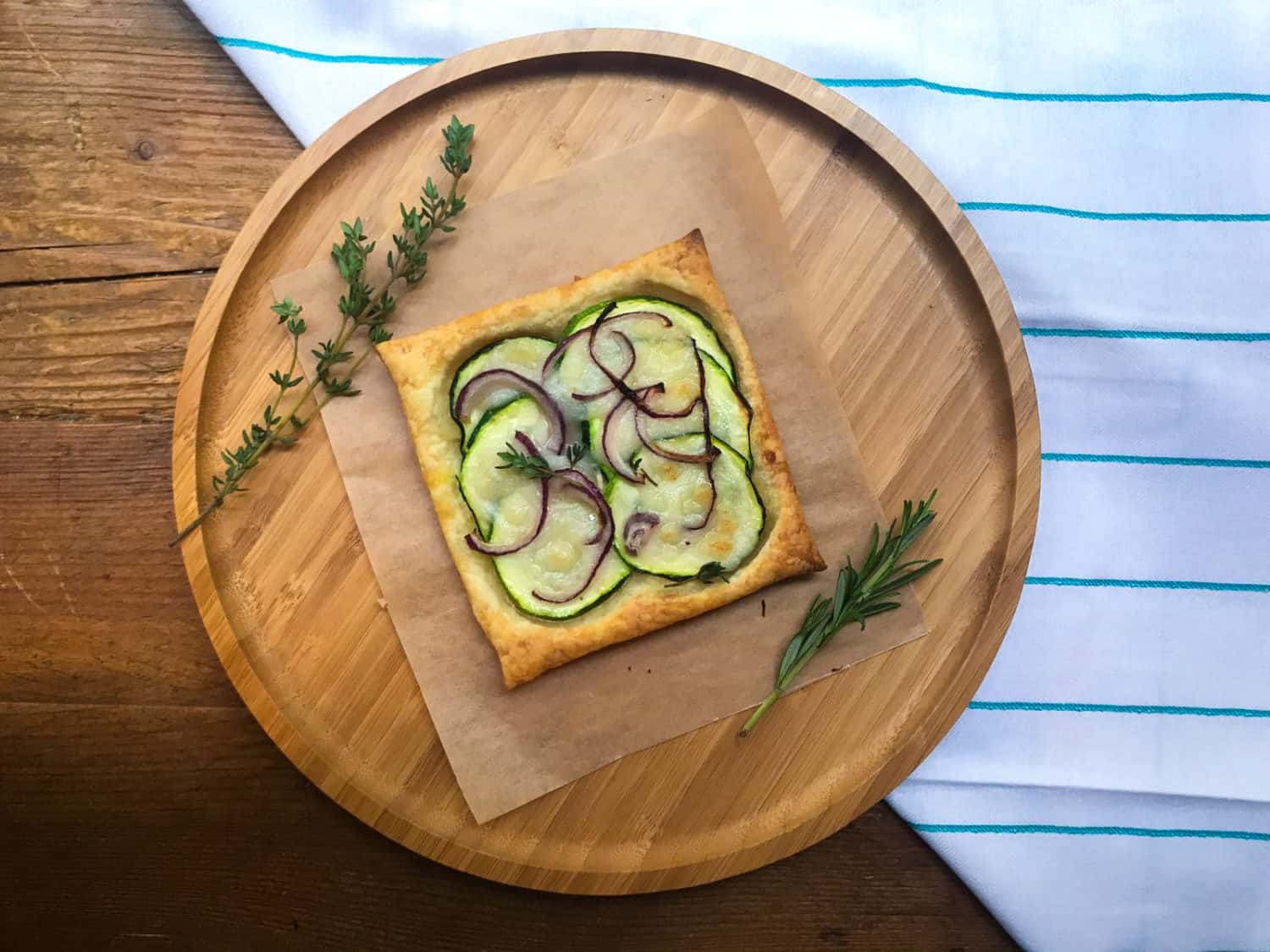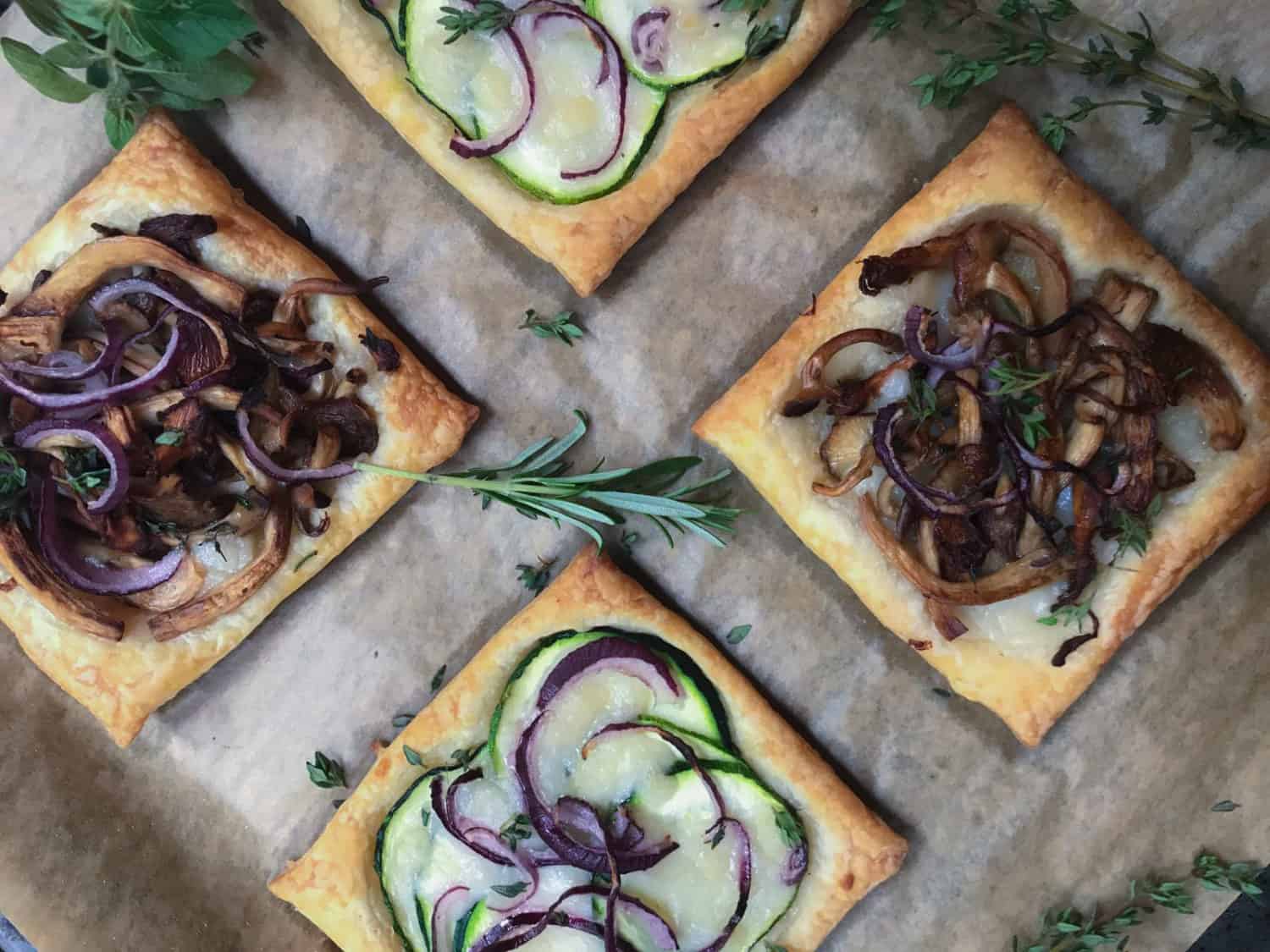 More Inspiration
For more easy, yet delicious, recipe ideas head over to the Vegabond recipe blog and find a few of our new favorites there. We update the blog every week with one new recipe and you can expect to see guest posts by bloggers, influencers, Vegabond-Community members and our staff there. If you are missing anything or got a question, let us know!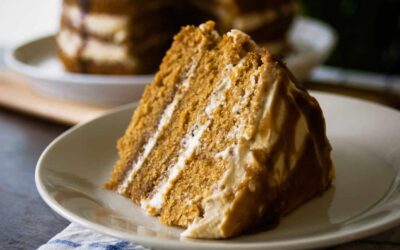 Seductive Salted Caramel Layer Cake Let's face it, this cake is loaded with calories but totally irresistible. Deep, buttery, brown sugar based cake has layers of salted caramel oozing between each bite and a rich caramel buttercream. This gorgeous cake is an...