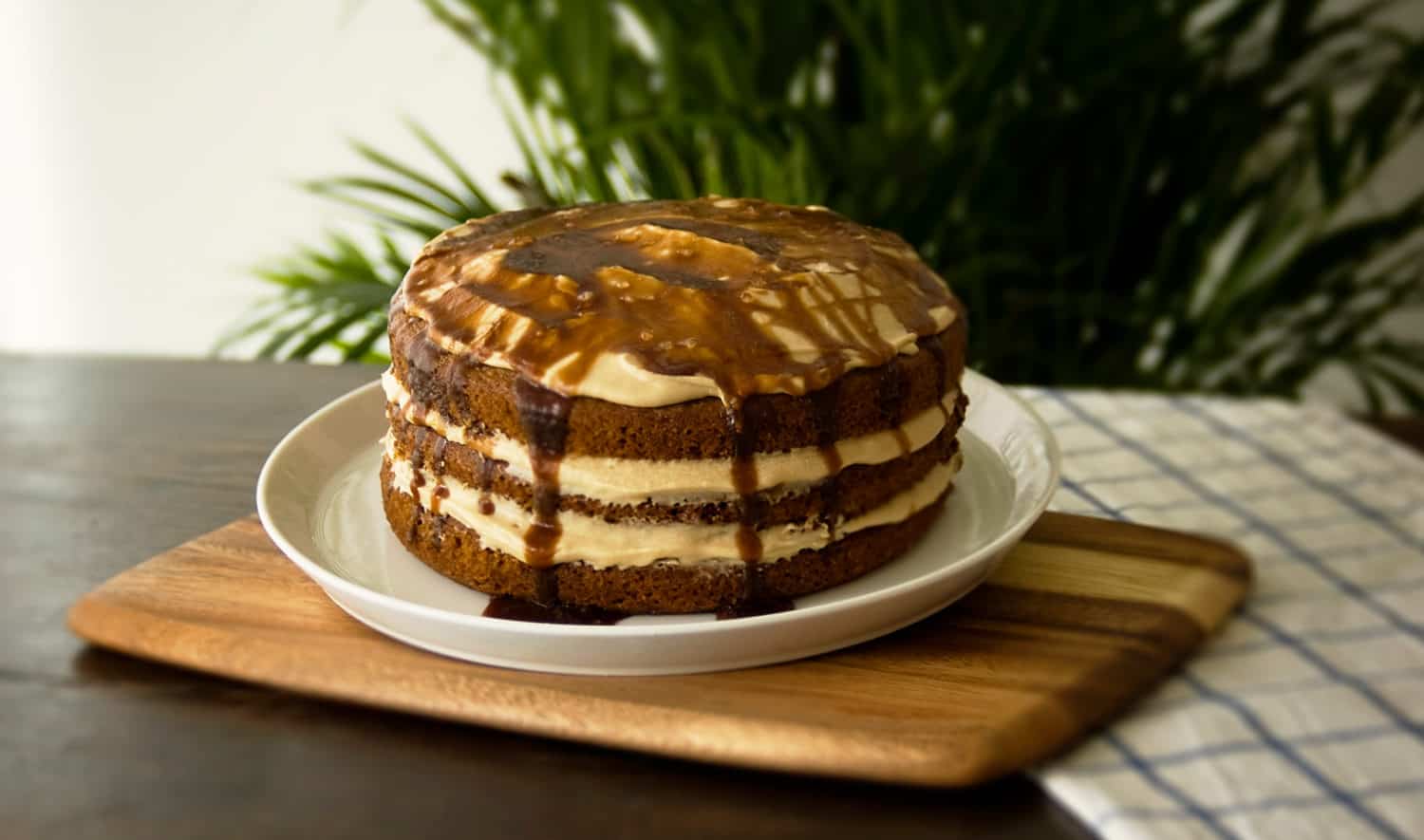 Seductive Salted Caramel Layer Cake

Let's face it, this cake is loaded with calories but totally irresistible. Deep, buttery, brown sugar based cake has layers of salted caramel oozing between each bite and a rich caramel buttercream. This gorgeous cake is an indulgent beauty, impress your friends and family this festive season, or just eat it all yourself, we're not judging and have honestly done the same thing. It not only looks magical, it also tastes extraordinary.

 

We opted to use condensed coconut milk as it gives the caramel a richer flavor, this is available to buy from Vegabond. However, if this isn't an option for you, you can easily substitute this for full fat coconut cream or from the thick cream that forms on the top of a can of full fat coconut milk. Whatever you do be sure to make this cake. You won't be disappointed, promise.

You can find all the ingredients needed in your local supermarket and farmers market and all specialty ingredients at Vegabond!
Ingredients 
Cake:
¾ cup sugar              
¾ cup brown sugar
1½ tbsp pure vanilla extract
¾ cup vegetable oil
1½ cup dairy-free soy yogurt    
1½ tbsp apple cider vinegar
2¼ cups all-purpose flour
1½ tsp baking soda
¾ tsp salt
 Salted Caramel Sauce:
¼ cup plant-based butter
½ cup packed brown sugar
⅓ cup condensed coconut cream or the thick cream scooped from a can of full-fat coconut milk
½ tsp sea salt
1 tsp pure vanilla extract
 Salted Caramel Buttercream Icing:
½ cup plant-based butter
½ tsp vanilla
3 cups icing sugar
2-3 tbsp caramel
1 tsp plant milk
¼ tsp salt
Method
Cake:
Line the 9″ cake tins with parchment and grease the sides slightly with butter. If you only have one pan you will have to put the mixture aside as each layer cooks.
Preheat the oven at 180°c (fan) or 350 °F.
To make the sponge add the oil, sugar and vanilla extract and beat it together with a whisk for around 2 minutes until the mixture is well combined.
In a small bowl mix together the yogurt and the vinegar and add this to the sugar mixture. Whisk together for another 2 minutes.
Sieve in the flour, baking soda and salt to your oil and sugar mixture. Gently incorporate this together. The batter should be smooth but do not to over mix.
Bake for 22-25 minutes or/until a wooden/metal skewer comes out clean. Allow the cake to cool to room temperature before assembly. In the meantime you can make the salted caramel sauce.
Salted Caramel Sauce:
Meanwhile, it's time to make the caramel. It is important that you continuously mix the caramel as you cook it. In a medium saucepan over medium heat melt together the butter, coconut milk and sugar. Next add the vanilla and salt. The mixture should now be well combined and smooth.
Once the caramel begins to bubble turn the heat down to medium low, stirring constantly. Cook this for a further 4-5 minutes. You can know that it's ready when it's thicker and start to stick to the sides of the pan but still runs off the spoon. Do not heat it any more than this. You can now remove it from the heat and allow it to cool to room temperature before continuing. The sauce will continue to thicken as it cools.
Salted Caramel Buttercream Icing:
Once your cake layers and caramel sauce have cooled to room temperature you can start making the icing. With a whisk cream together your butter and icing sugar, adding this a quarter cup at a time. Once you've added approximately 1 cup (0.24 l) of icing sugar you can add your salted caramel sauce, salt and vanilla. Whisk this together and continue to add the rest of the icing sugar. Your icing should hold its form but have a soft spreadable consistency. If your icing is too thick you can add the plant based milk.
Assembly:
It's finally the moment to assemble your masterpiece. Place one layer of cake, top down onto your serving plate (be sure to remove the parchment paper), add 1-2 tablespoons of the camel sauce on to the cake layer and gently smooth it out. Add half a cup to 1 cup (0.24 l) of your buttercream icing and carefully spread it evenly to the edges. Repeat this for the next layer: cake, caramel sauce, buttercream and then your final layer of cake (top up). Gently spread the rest of your icing on to the top of your cake and drizzle the salted caramel sauce all over the top. Finish it all off with a sprinkling of coarse sea salt or fleur de sel.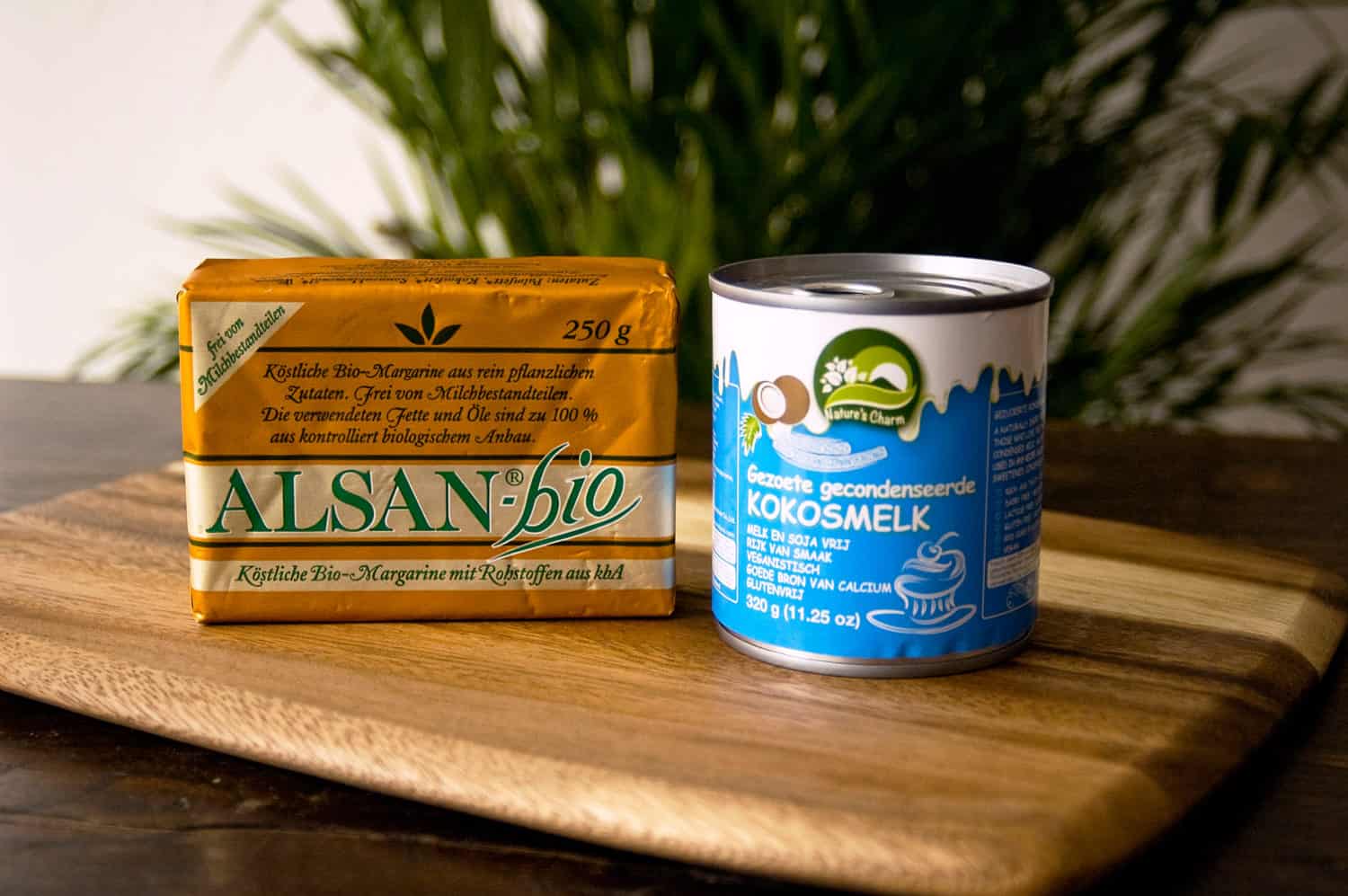 More Inspiration
For more easy, yet delicious, recipe ideas head over to the Vegabond recipe blog and find a few of our new favorites there. We update the blog every week with one new recipe and you can expect to see guest posts by bloggers, influencers, Vegabond-Community members and our staff there. If you are missing anything or got a question, let us know!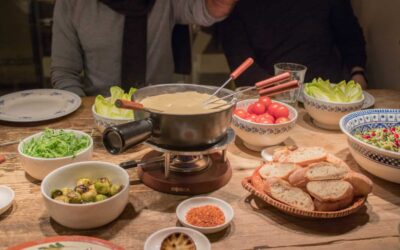 Christmas Special: Vegan Cheese Fondue Cheese-fondue, a classic dish often enjoyed in winter, is usually made with a variety of Swiss cheeses. With cheese as the star of the show, it seems nearly impossible to have a vegan version of this dish, right?...