Vegan Food in Lisbon and around. Bom apetite!
Travelling as a vegan isn't always easy. But what helps, is doing some research beforehand. And we are here to help you with exactly that. We took a little trip to Portugal and have written this blog for you about our favorite places to eat in the area. So when you are visiting Lisbon or around, make sure to read this, visit these places and you'll be just fine!
After arriving on Lisbon Airport, I took a short bus ride to the city center. Having checked into my hostel, I straight went outside on a hunt for vegan food, since the journey got me feeling pretty hungry! Thanks to the great website/app Happy Cow, I found my first restaurant rather quickly. I couldn't find the right street at first, though. But after roaming around for a minute or two, guess who I ran into?  A vegan activist! What are the odds, right?
So with directions from this friendly man, my vegan food journey started. Here is my top 6, in random order: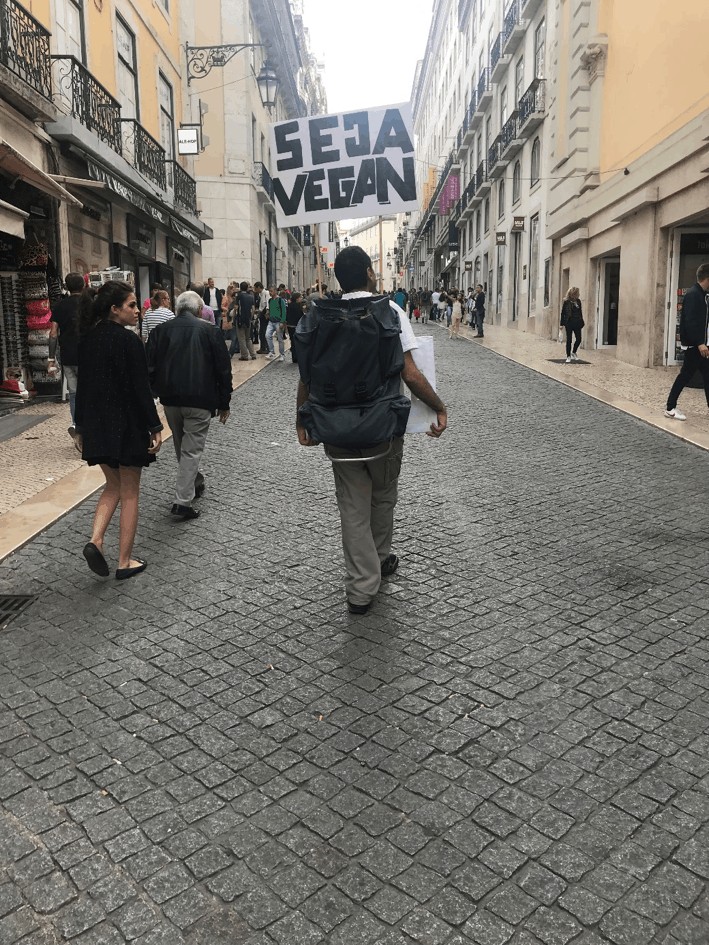 Jardim das Cerejas (vegan) – Lisbon
The first place I ended up eating at was Jardim das Cerejas, an all vegan buffet restaurant. A place where you can go for a second plate or even a third? Perfect for my post-journey empty belly. I really enjoyed this place as it had many options to choose from. The food was fresh and spiced nicely with some Indian influences here and there. I enjoyed it enough to go back a second time for their dinner buffet, which was also pretty good. That last time I was there, the guys gave me some free cakes to take home, which was sooo good! I recommend everyone who goes here to leave a bit of room in your belly for dessert!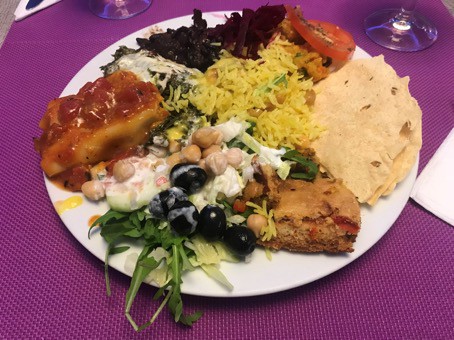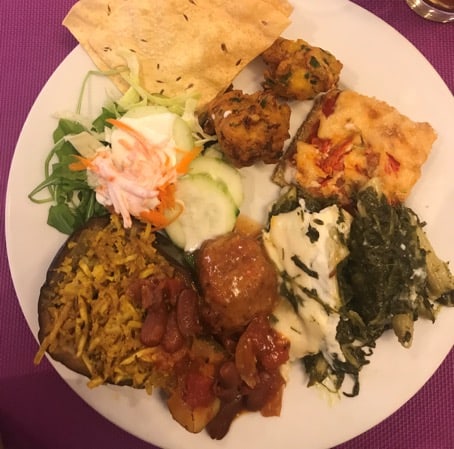 Princesa do Castelo (vegan) – Lisbon
Roaming around Lisbon, it's hard to miss the beautiful Castle of Sao Jorge. On top of one of Lisbon's hills, it provides a stunning view of the city and some really nice restaurants too. One of them is Princesa do Castelo. The staff is extremely kind, the place looks homey and the food was delicious and nourishing. I had a pumpkin stew with cinnamon and other winter spices for lunch and a warming pot of herbal tea on the side. Just make sure to ask if they didn't use any honey in their raw cakes, as I heard that they have done that in the past.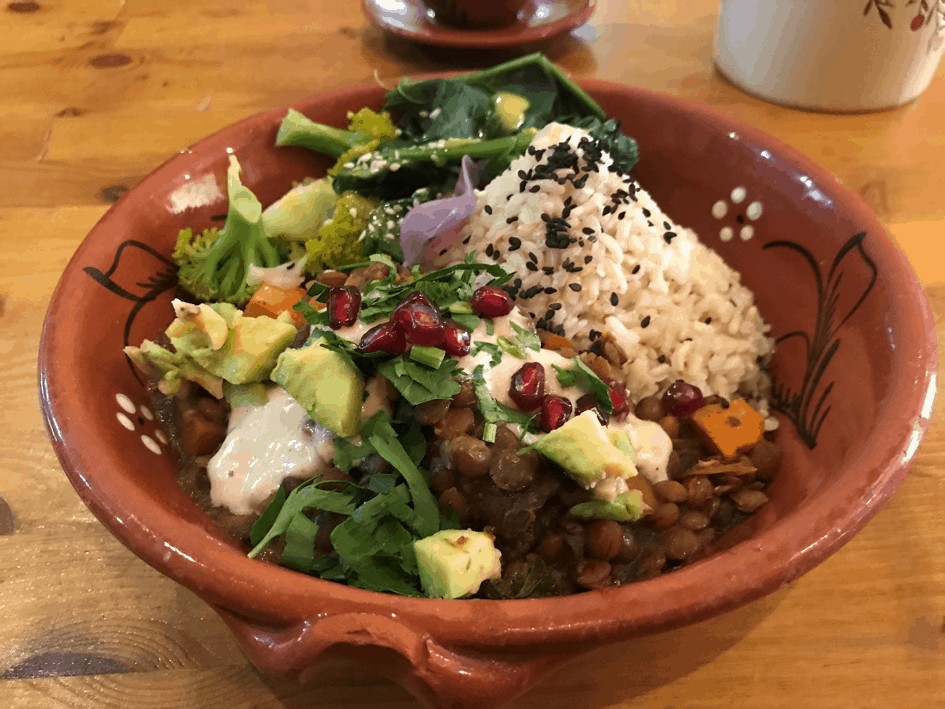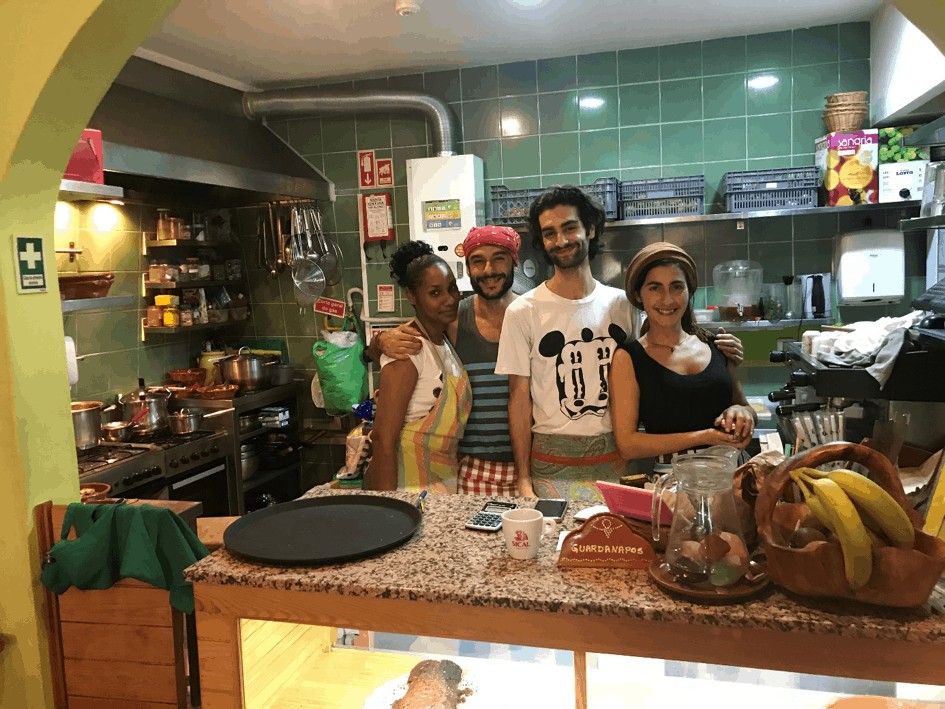 Food Temple (vegan) – Lisbon
On the other side of the castle, you will find another small vegan restaurant. Food Temple is bit difficult to find but definitely worth a visit. I started with some roasted broccoli and a quesadilla kind of snack, filled with vegan cheese and spinach. Both were delicious. For the main course, I had a risotto made with blue cheese that I immediately recognized because it's one we also sell at our store: Violife Blu. The risotto was super moist and perfectly cooked. I often find vegan risotto's a bit tasteless, but definitely not this one!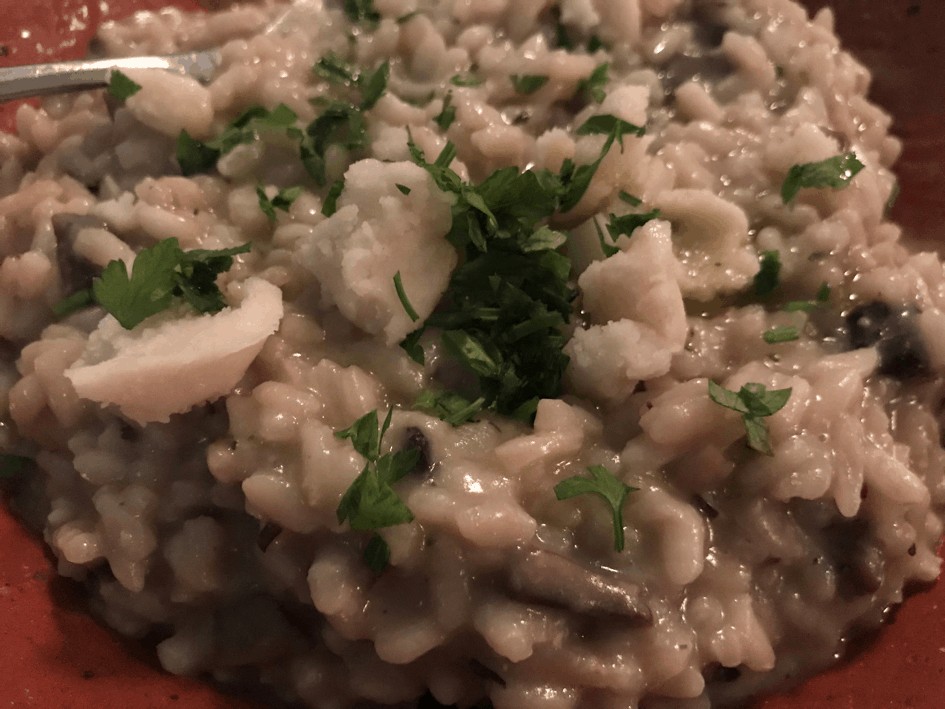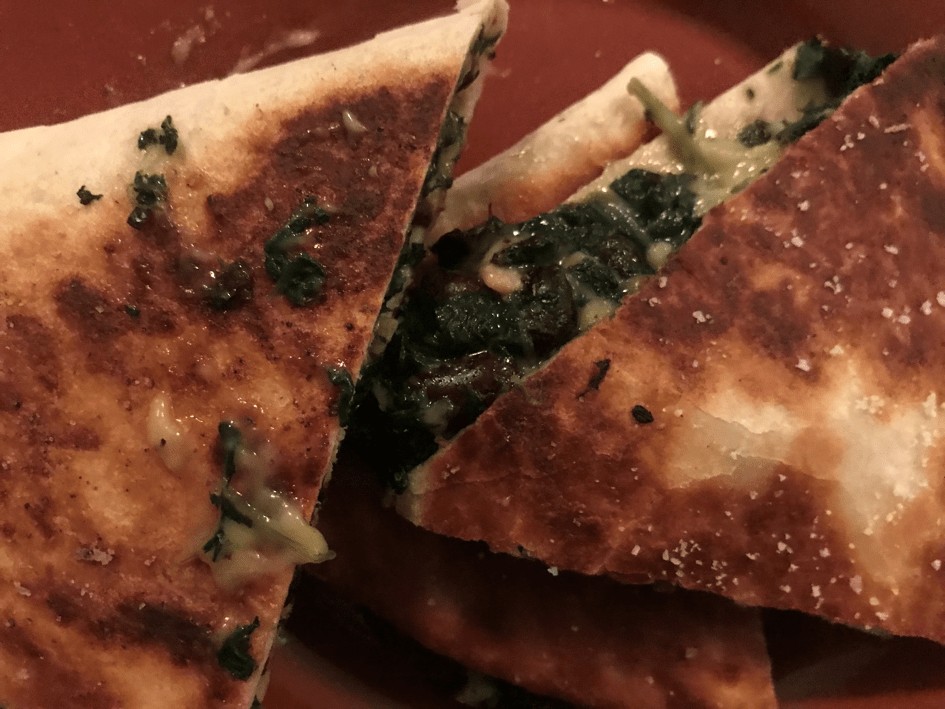 Ao 26 – Vegan Food Project (vegan) – Lisbon
During my trip, I met up with the vegan couple behind 'Kitchen Dates': Maria and Rui. They used to visit Vegabond often when they still lived in Amsterdam. Now they organize vegan brunches at their home in Lisbon, which I, unfortunately, had to miss, since there was no brunch scheduled for that weekend. So instead, we had lunch together at a restaurant called Ao 26. I had a soup, a super creamy and rich gnocchi dish and crème Brulee for dessert. The sweet potato fries were crazy good too, especially because of their homemade mayo. The service was friendly and knowledgeable, the place looks nice and the food was fresh and tasty. And, most importantly: great company. Thanks for joining me Maria and Rui, it was great meeting up with you!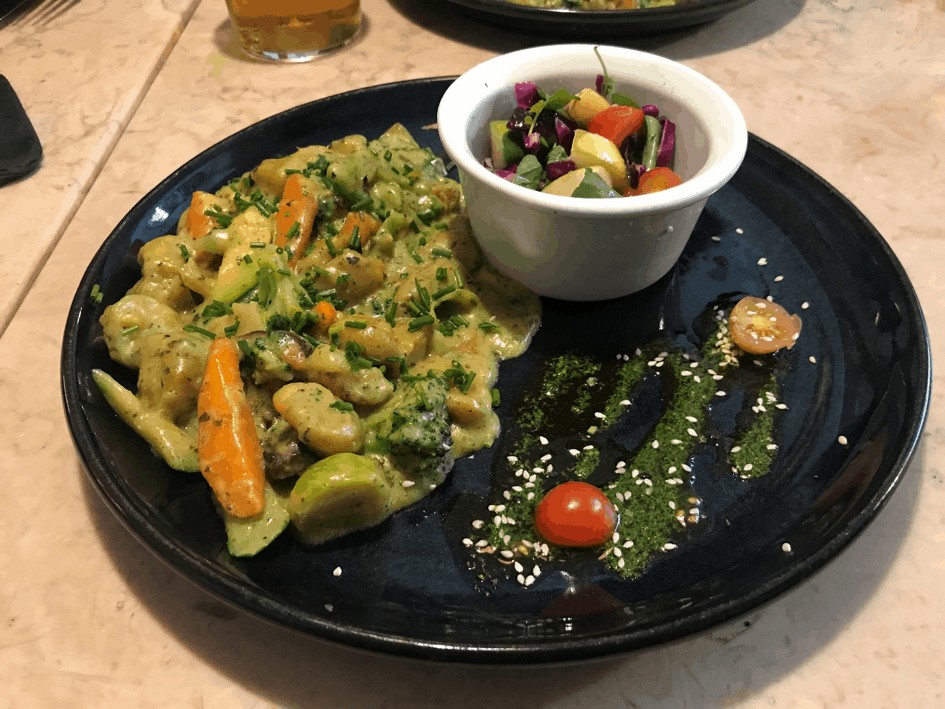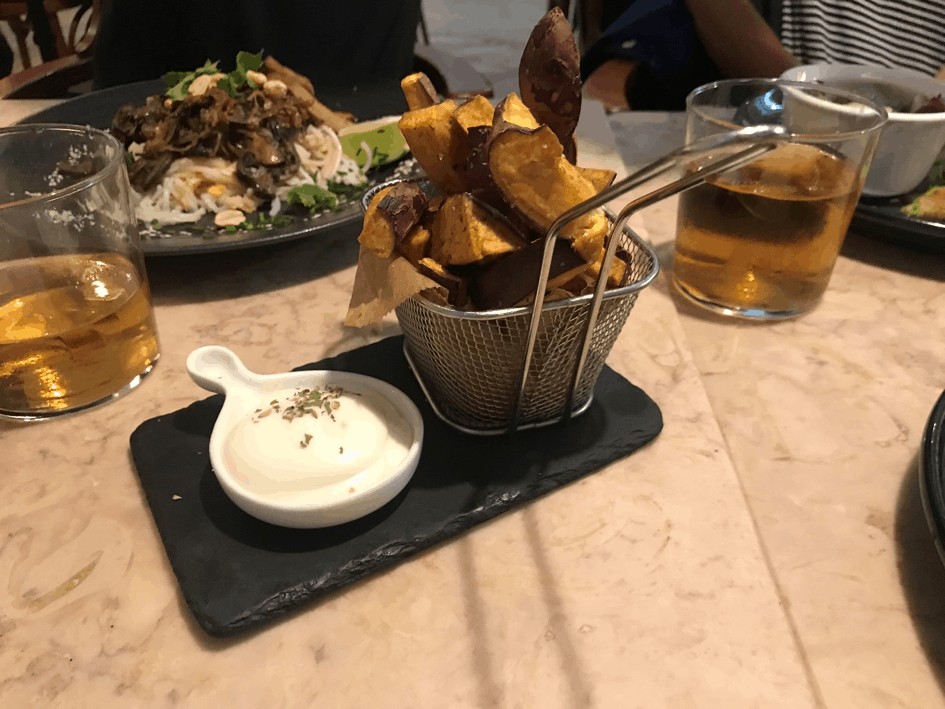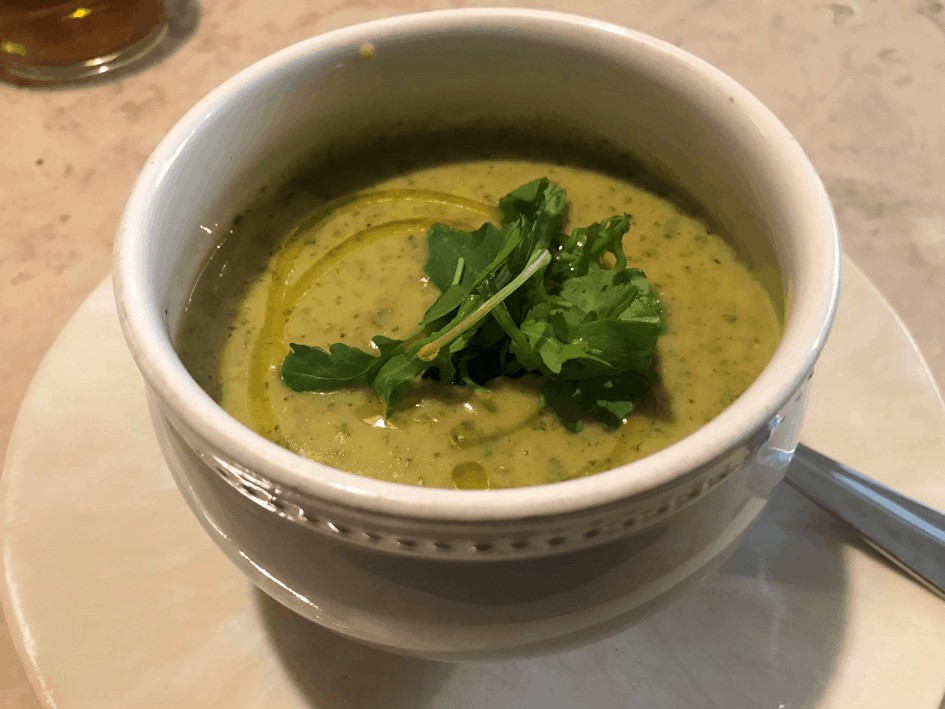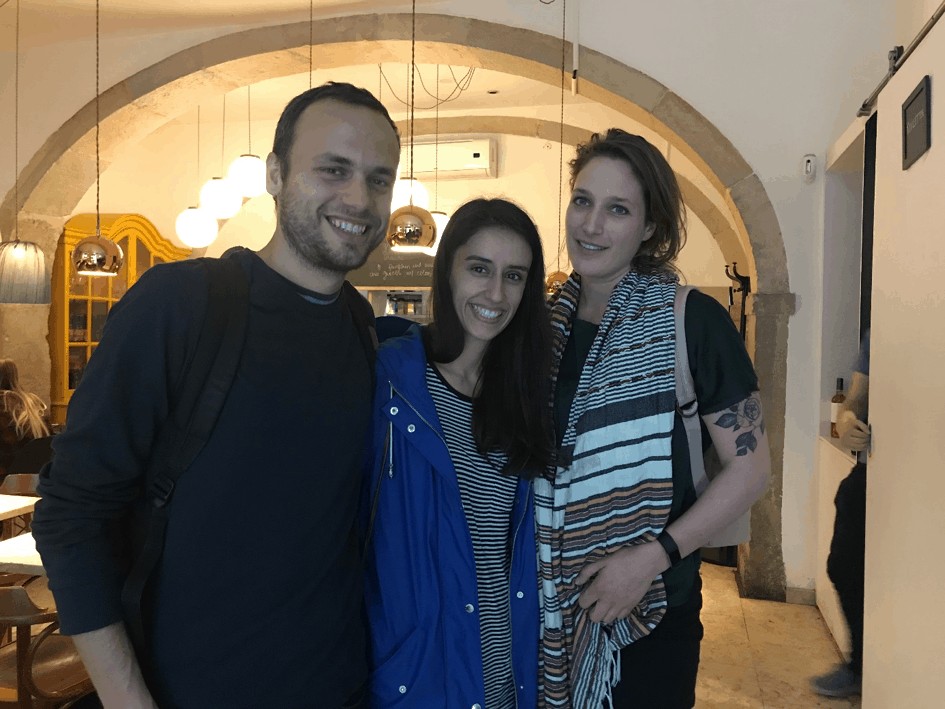 House of Wonders (vegetarian) – Cascais
In a beautiful building with a roof terrace that provides a stunning view, you find House of Wonders. A vegetarian restaurant with many vegan options, run by a Dutch lady (what a coincidence). This place was my favorite amongst the vegetarian restaurants. The colors used in the interior, as well as the food, were simply amazing. And the juices: so fresh and yummy! The raw cakes we ordered were actually big enough to share since the nuts used in the recipes make them really filling. Just be careful they don't get eaten first by the chocolate-loving pigeons hanging out in the neighbourhood!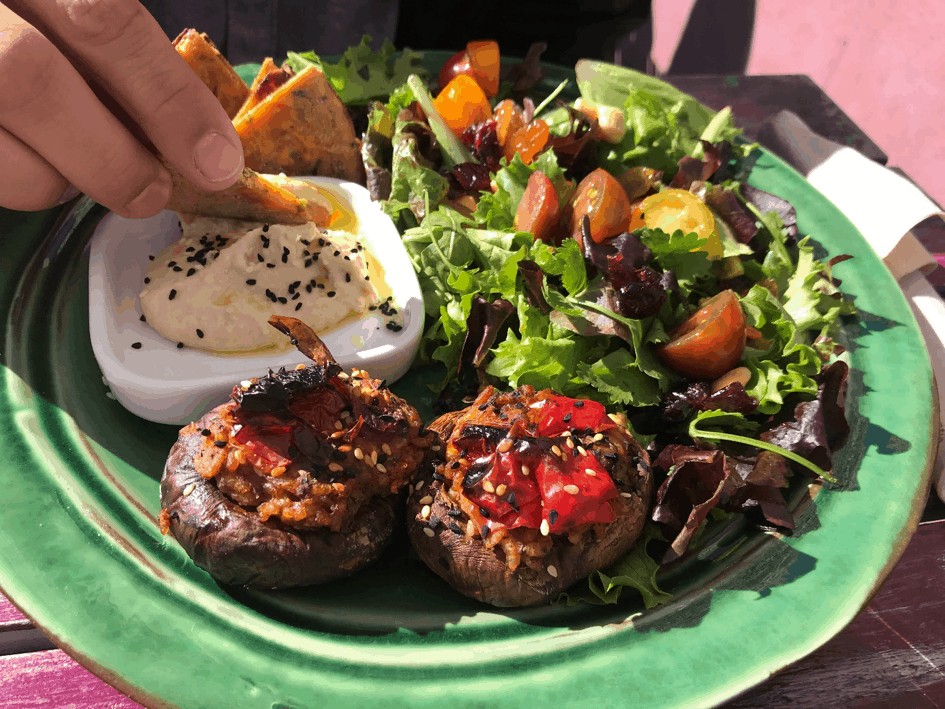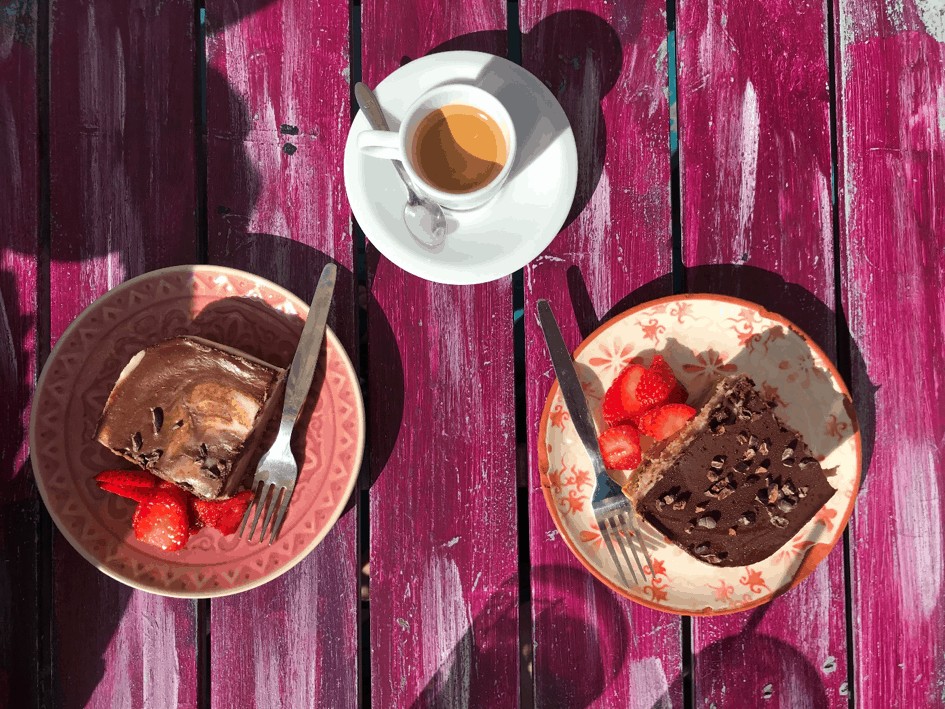 Ink Farm Food
The last place I came across before flying back to Amsterdam was Ink Farm Food. I wasn't looking for anything because I already have had lunch, but couldn't resist going inside. I ordered a very refreshing juice made from carrots and ginger. I started talking to the owner, who is from Israel, and he insisted I tasted some of his falafel, which was truly delicious. He was even nice enough to make me a sandwich for on the plane, now how can one say no to that? It had this amazing mango sauce on top which I keep dreaming about! Will definitely visit these guys again when I'm back in Lisbon!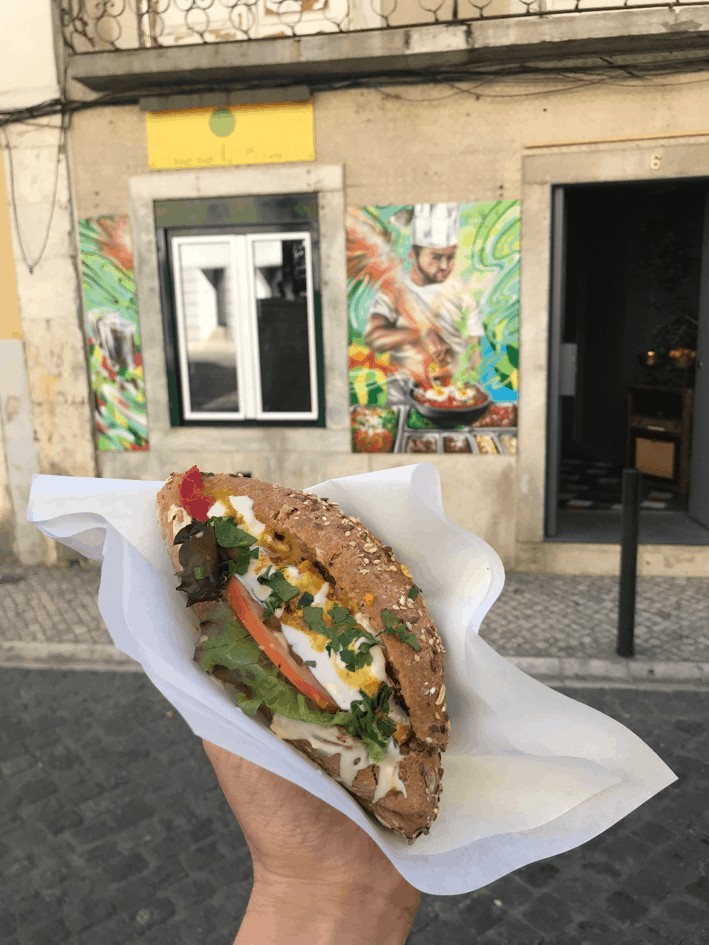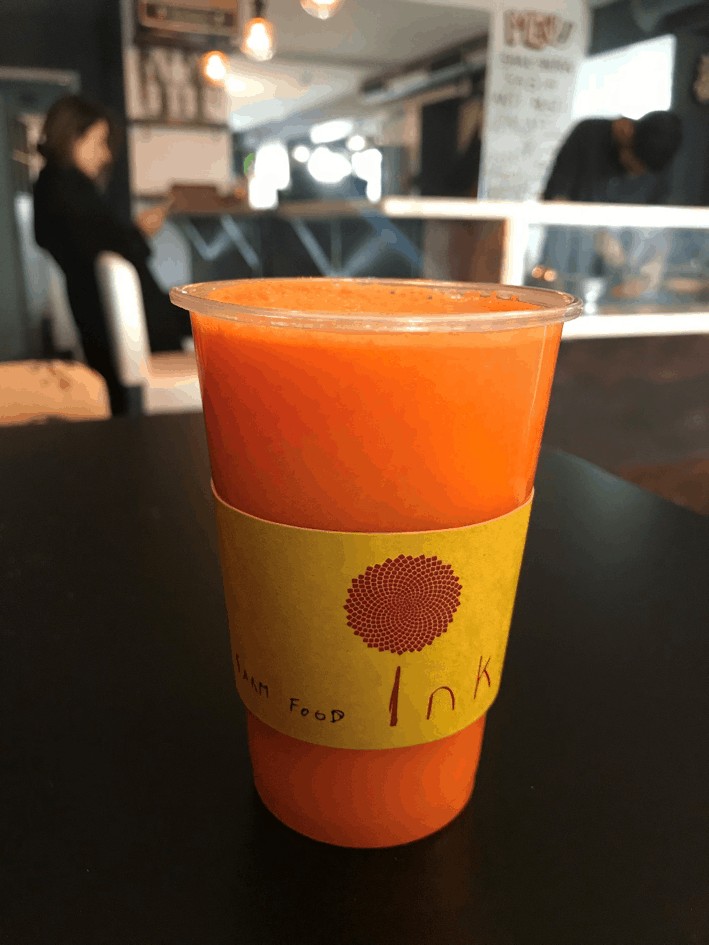 These were not the only places I've found in Lisbon and around, there are many more vegan places and it's impossible to try them all! To not make this blog post too long, I will leave some up for you guys to discover yourselves. Just one tip: get in touch with Kitchen Dates to make sure you won't miss out on experiencing one of their vegan brunches!
Is there any other European city you would like us to check out? Is your city a must-visit for vegans? Let us know through our social media and you might find a blog about it here soon!
More Inspiration
For more easy, yet delicious, recipe ideas head over to the Vegabond recipe blog and find a few of our new favorites there. We update the blog every week with one new recipe and you can expect to see guest posts by bloggers, influencers, Vegabond-Community members and our staff there. If you are missing anything or got a question, let us know!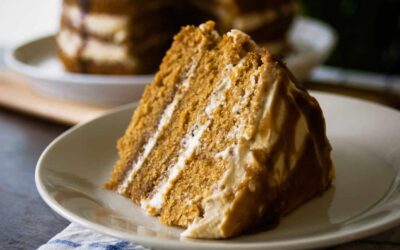 Seductive Salted Caramel Layer Cake Let's face it, this cake is loaded with calories but totally irresistible. Deep, buttery, brown sugar based cake has layers of salted caramel oozing between each bite and a rich caramel buttercream. This gorgeous cake is an...