10 Valentines presents that work for everyone
The day of love (thanks flower industry) is just around the corner and as always, our boyfriend has no clue what to get us…or we forgot to get a boyfriend. Nevertheless, we collected 10 small ideals that fit every budget and show your loved one that you care about quality time with them. After all its not the money, but the time spent, for and with someone that makes a relationship. So don't put your hands too deep in your pockets this year, but rather make more time for each other.
Booja Booja – Luxurious chocolate truffles
The delicious truffles are filled with a creamy hazelnut ganache and will make every heart melt. Every single box is painted by hand and after finishing the truffles, the box will be a beautiful reminder that will last forever.
'Rawsome vegan baking'
This book is filled with recipes for raw sweets and desserts. You can romantically make them together on a Sunday morning and then enjoy them with all your friends. Sharing is caring!
El Jefe – Volcan.
Made in Amsterdam with only the best ingredients. This great tasting hot sauce is made with mango and passion fruit and is so hot, it will definitely spice things up!
Heaven Scent – Scented candles
These cruelty-free scented candles come in a wide variety of scents, such as Lavender, Mandarin or Ylang Ylang. They have a beautiful, delicate smell and will light up the room while you give your lover a much deserved massage.
iiWii Cork – "Hana" handbag.
This soft pink, beautiful handbag is made from a cruelty-free and environment-friendly cork material. It's the perfect gift for a lady who cares about animals and loves to look fashionable!
Pukka – Love tea
This beautifully designed box of tea would make anyone smile. Sip it together on the couch while cuddling up under a blanket. Let the lavender, chamomile and organic rose warm you up and feel the love!
The Rub Scrub – Body scrub
Treat your valentine with this scrub for a super silky smooth skin. It's a full body exfoliator with a coffee round base. 100% natural and safe for the environment!
Dopper – Water Bottles
For those always thirsty on the move, Dopper designed these cool water bottles. No more need to buy bottles on the road if you got this one in your bag.
Sweet Revolution – Instant hot chocolate.
Another great one for those cold winter evenings. This hot chocolate is based on coconut milk and has a rich taste and velvety consistency. Simply mix it with some hot water and you're good to go!
Booja Booja – Hunky Punky chocolate ice cream
We can't think of anyone (without a nut allergy) who would not love the idea of a creamy, rich, cashew-based chocolate ice cream! Just don't expect your valentine to give you a taste, because this one is just simply too good to share!
More Inspiration
For more easy, yet delicious, recipe ideas head over to the Vegabond recipe blog and find a few of our new favorites there. We update the blog every week with one new recipe and you can expect to see guest posts by bloggers, influencers, Vegabond-Community members and our staff there. If you are missing anything or got a question, let us know!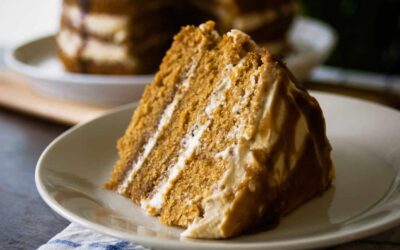 Seductive Salted Caramel Layer Cake Let's face it, this cake is loaded with calories but totally irresistible. Deep, buttery, brown sugar based cake has layers of salted caramel oozing between each bite and a rich caramel buttercream. This gorgeous cake is an...